Kids are fiddling with their gadgets all the time these days. Even those as young as one are adept at navigating their way around the various apps on the phone. With the lockdown, their screen time has only increased. Banning kids from using devices doesn't really help either. So, finding creative distractions is the best solution. Artist
Afza Tamkanat
has found a novel way to make sure that her 13-month-old daughter
Inara
is not glued to the screen all day. "Every child is infinitely curious. They imitate and learn from their parents. So it is important for adults to set a good example. When she saw me painting, she crawled over to me and started dipping her fingers in paint and spilled it over my canvas. I was apprehensive at first but didn't want to kill her curiosity. I started painting around what she had created and it gave both of us immense joy," says Afza. She then decided to get a
canvas
and let Inara run free on it. "The lockdown gave us time to experiment and we wanted to see what she would create," recounts Afza, adding, "This has become one of my favourite projects. We ensure that she is properly covered before she starts painting. My father,
Fawad
Tamkanat who is also an artist has taken an active part in setting up this special project for me and Inara. It is heartening to see her gravitate towards painting like I did as a child."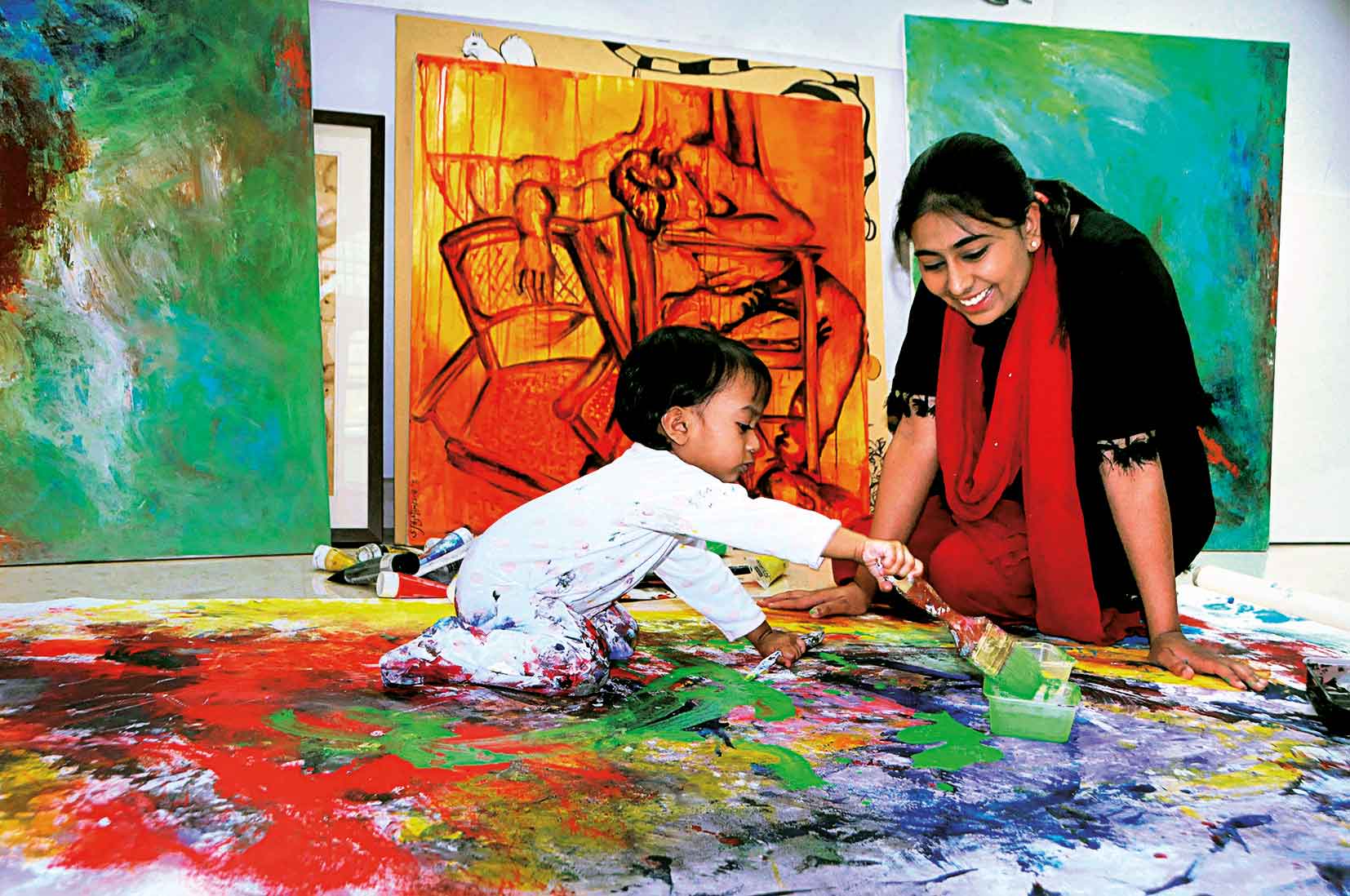 Afza watches as 13-month-old Inara weaves her paintbrush on a canvas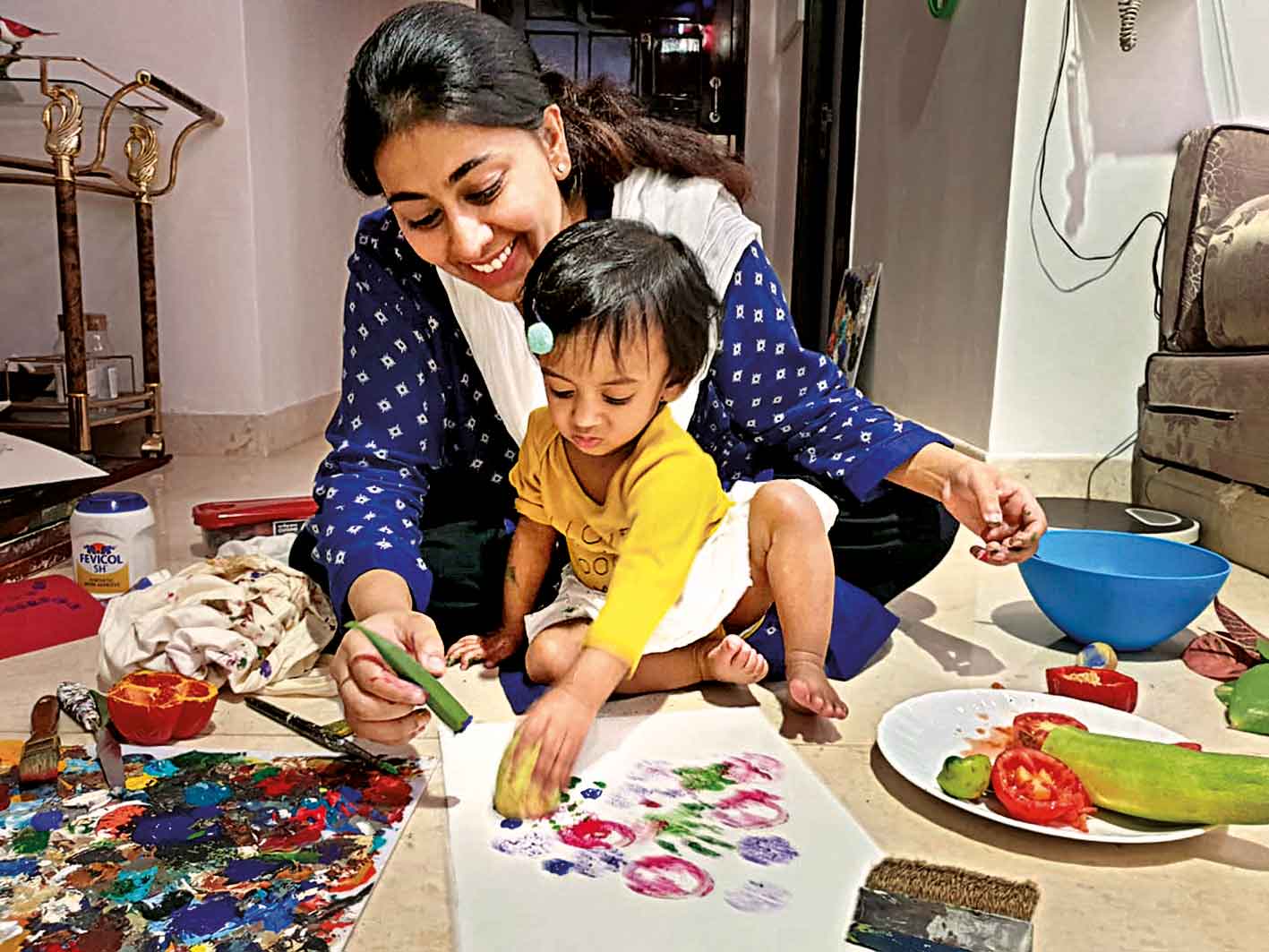 Afza gives us a few ideas on how we can use this down time to encourage our tiny tots to try their hand at exploring their creative faculties while keeping them engaged with an art project instead of having them glued to their tablets and laptops.
THINGS TO KEEP IN MIND WHILE PAINTING WITH KIDS
If your child tends to colour outside the lines then do not stop them
It's better to stick to natural colours if your child has sensitive skin or has a tendency to put things in the mouth. Use coffee, turmeric water or beetroots and pomegranates that bleed their own colours
Do not grade them on their work. Let their imagination run free
USE VEGETABLES TO CREATE STILL LIFE ART PIECES OR TO CUSTOMISE YOUR OLD T-SHIRTS AND SCARVES
Slice up vegetables like okra, capsicum or carve a potato using a cookie cutter into different shapes
Dip these in paint to create patterns and flowers
If you have fabrics like old scarves, T-shirts and pillow cases, paint them using the same technique. Before you know it, you will have a set of unique customised clothes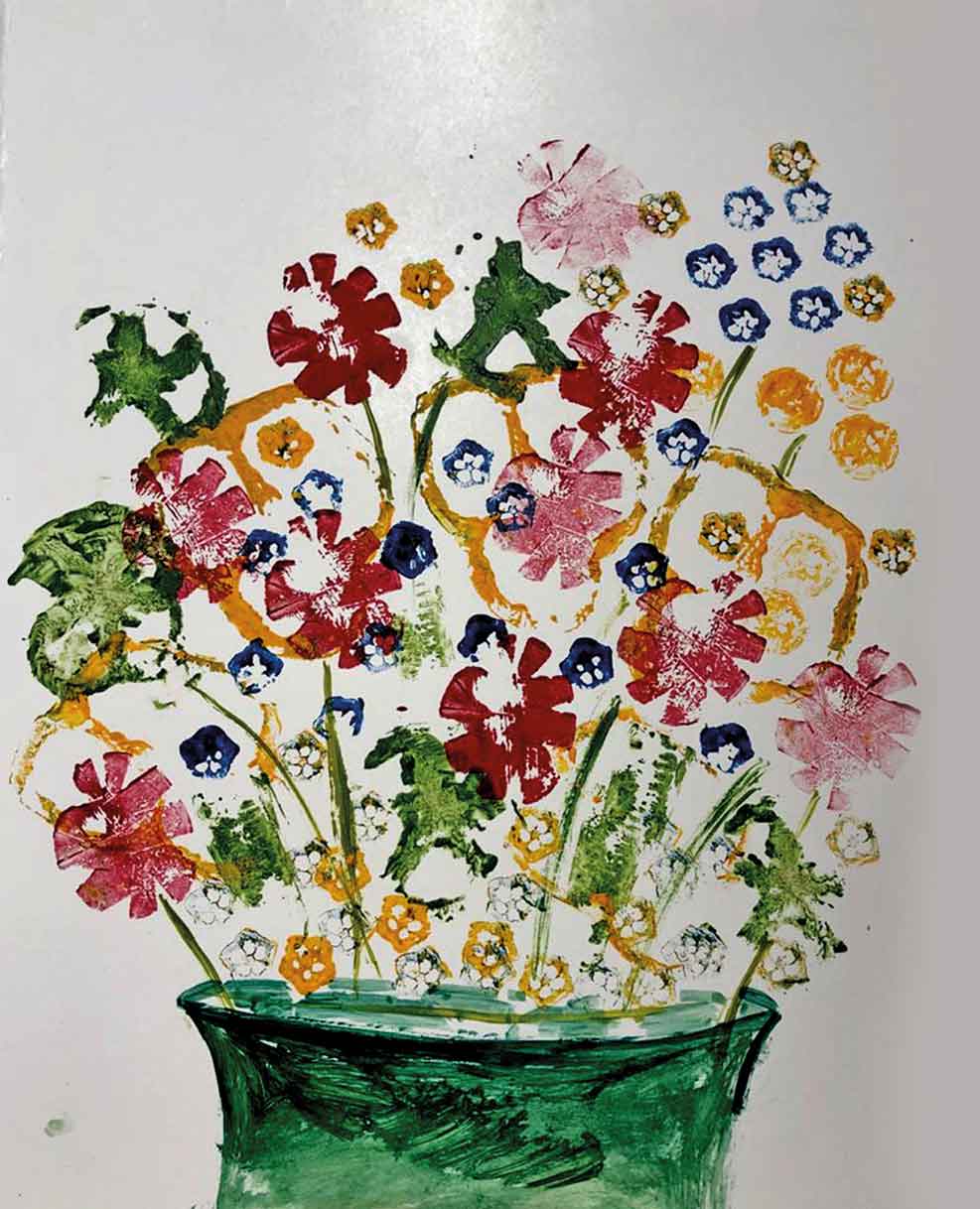 DESIGN BOOKMARKS WITH FALLEN LEAVES
Collect different kinds of leaves
Paint them with any colour and put the imprint on paper
Cut out the leaf imprint and stick it on a piece of cardboard. You have an intricate bookmark to mark where you stopped a bedtime story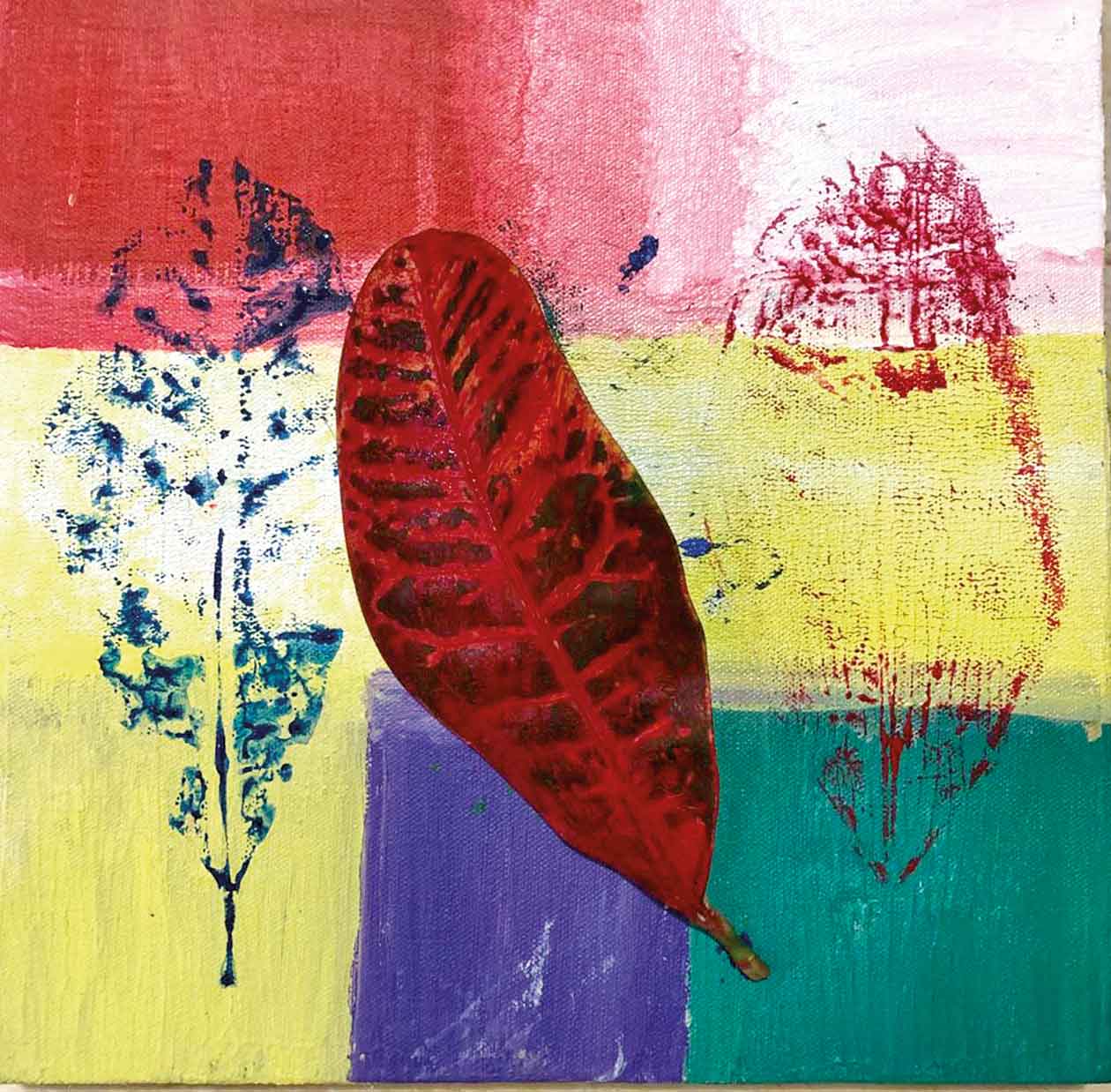 PRODUCE ABSTRACT ART WITH OLD NEWSPAPERS
The best part about abstract art is that there are no rules! To make one yourself, splash different colours on a canvas or paper
While the paint is still wet, take a newspaper and crumple it. Put it on a corner of the canvas and use a roller or a bottle or any such item, and roll over the paper. This will leave impressions of the texture of the paper on the canvas. Repeat throughout the canvas
You can create different textures using bubble wrap, net, leaves etc.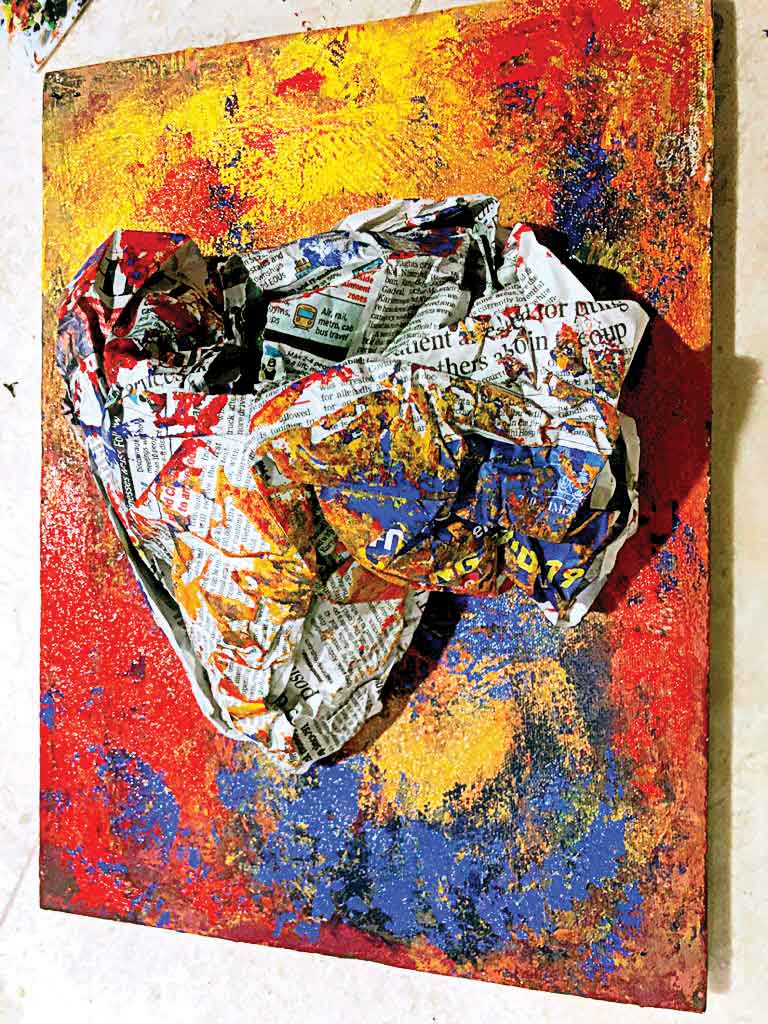 CREATE BEAUTIFUL ART WITH COFFEE
Coffee dissolved in water makes for great homemade paint
Dip leaves and flowers in this coffee solution
Put the imprint on paper
Draw branches and stems
Painting is ready for display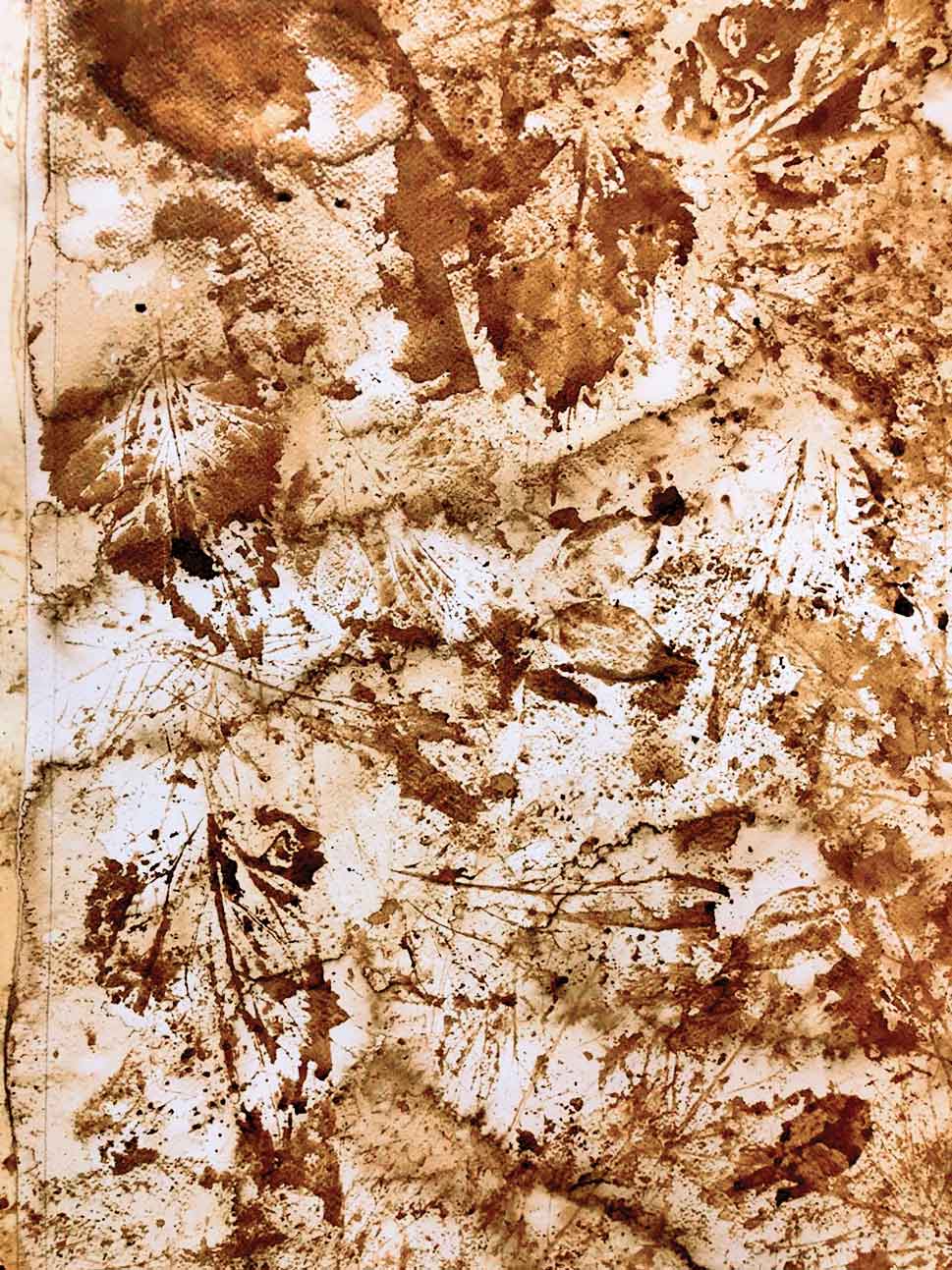 SET YOUR IMAGINATION FREE WITH COLLAGE ART
Pick out a scene or an object that you wish to recreate
Draw a rough outline of the object or scene you have picked
Tear newspapers and pages of magazines into tiny pieces. Do not use scissors
Let your child stick the pieces of paper within the outline you have drawn to create the object or scene